Services
SEO Migration Services
Every business launches a new website at some point in time, but what many don't realise are the profound implications launching a new website can have on SEO.
During website migration, a site undergoes substantial changes such as a change to platform, structure, content, or location, which can greatly affect SEO, wiping out traffic and rankings that took years to accumulate, if SEO migration protocol isn't first put into place.
The good news is, if you're migrating a website, it's possible to preserve rankings and traffic with forward planning and a good SEO migration strategy.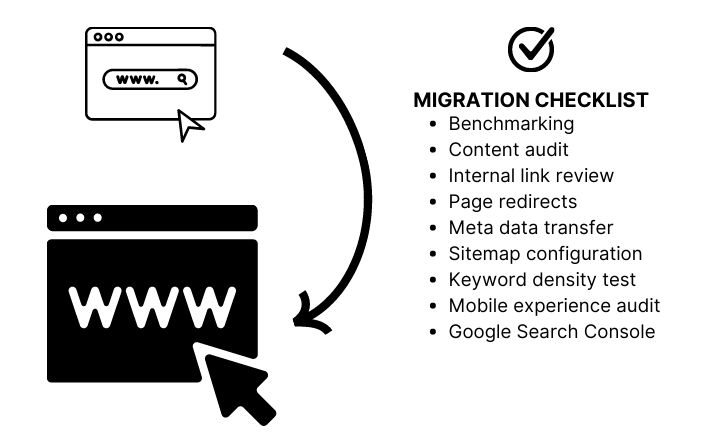 What is SEO Migration?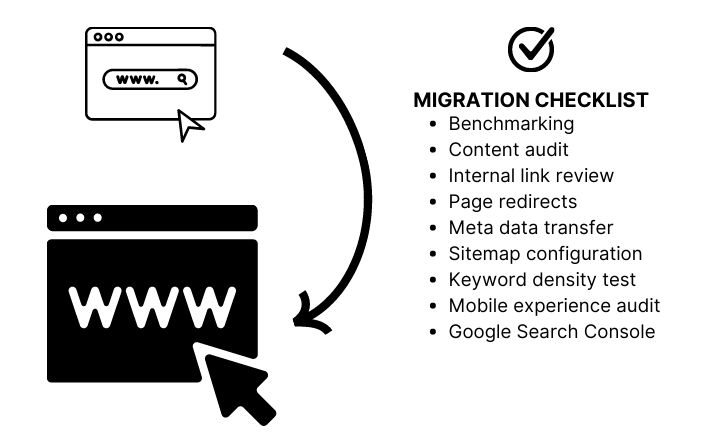 SEO migration is the process of transferring search engine rankings, authority and indexing signals when a website undergoes a serious change, such as a new site launch, platform migration, restructure, or content and design change.  
It's easy to get wrapped up in the visible features of a new website like the design and content, leaving the unseen factors that affect SEO rankings – such as URLs, page tags, internal links, H1 headings, and others – as an afterthought.  
If a proper SEO migration strategy isn't put in place prior to website migration, SEO rankings and traffic are at risk.  
How does SEO migration work?
SEO migration is an involved and technical process that assesses current organic rankings and performance, and how to effectively transfer them across to the new website. The SEO migration process often takes 1 – 4 weeks, differing based on website size and structure.  
As a longstanding SEO agency in Melbourne, we have developed a tried and tested process for SEO migration that has proven successful for hundreds of website migrations.   
The Sentius SEO migration process involves five steps.   
Objective setting and planning – A review of the current SEO landscape and performance, and consulting with the client on concerns and objectives. 
Data gathering – Benchmark reports are created, and a crawl of the current website is conducted to extract critical SEO data. Further ranking and performance data is assessed through Google Analytics and search console.  
Review, comparison & redirection matrix – A review of the new website design, structure, sitemap and navigation is undertaken. SEO content gaps and critical concerns are flagged and a redirection matrix is prepared.  
Website launch – The SEO migration launch checklist activities are carried out to ensure the new site is indexed and all SEO factors are implemented correctly. 
Post launch evaluation – Conducted 1 week post-launch, the evaluation compares previous top performing pages with new pages and an SEO benchmark keyword ranking report is created. 
It's normal to see a fluctuation in organic traffic and rankings for a few months after a new website launch, however, with strategic planning and implementation, we generally see SEO performance return to normal and often improve after undertaking SEO migration for a new website.  
Are you in the process of migrating your website? Get in touch with us for a free SEO audit and consultation to see how we can help migrate your SEO performance.  
Our process
How does SEO work?
SEO is a two part process involving website updates (on-page activities) and increasing your online presence across the web (off-page activities). This comprehensive approach boosts the online reach of your brand, ultimately leading to top search engine rankings and increased conversions.
Strategy & Analysis
Website analysis to review content and detect any problems with the website
Strategic keyword search volume analysis (when selecting KWs)
Google analytics setup and installation
Link analysis
On-Page SEO
Meta optimisation
Page Tag, Title & Description Updating
Code optimisation
Image tagging
Addition of .robots text (to tell Google robots to crawl your site)
Sitemap implementation
Adding SEO keywords to copy (if needed)
SEO page content writing
Off-Page SEO
Link building
Content creation
Social media optimisation
Directory submission
Brand promotion
Blogger outreach
Search engine submission
Manual ranking report generation (fortnightly)
Social Bookmarking
Multimedia submissions: video, image, Powerpoint, PDF (if material is provided)
Press release submission (if material is provided)
Testimonials
SEO client success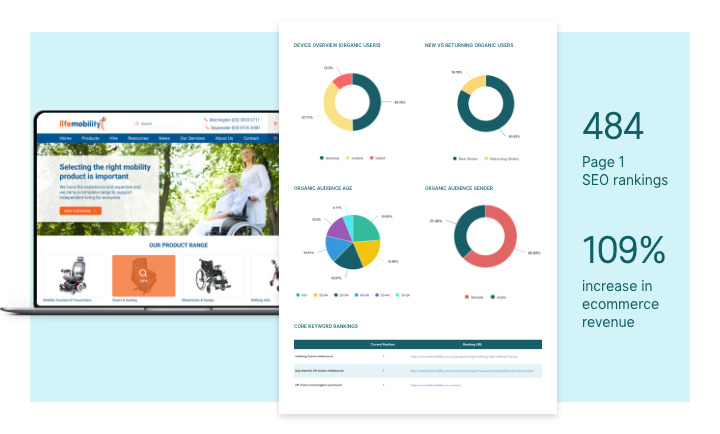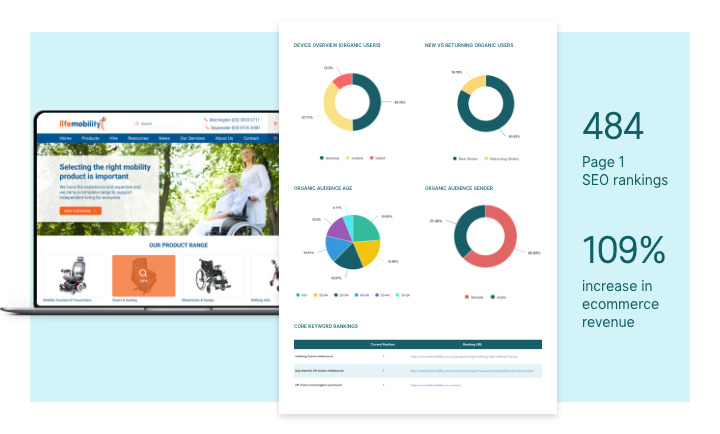 I just logged on to Google Analytics and saw that we had a huge increase in website traffic over April compared to March. I've taken a look at where this traffic has come from and it's namely organic.
- Client from Health Industry
Connect
Request a free SEO audit & consultation
More information
SEO Migration FAQs
Why I need to do SEO Migration?
SEO migration is required any time you make a significant change to your website, such as launching a new site, changing platforms, or restructuring the navigation. SEO migration aims to minimise the impact such changes have on organic rankings, traffic, and performance.  
How does website migration affect SEO?
Website structure, content, URLs, and other SEO components of a website change during a website migration, which can have a negative impact on organic traffic and rankings. If pro-active steps aren't taken to ensure these critical SEO factors are carried from the legacy website to the new one, the effects can be detrimental.  
What is domain authority?
Domain authority is a search engine ranking score that indicates how likely a website is to rank in the search engine result pages (SERPS). The scoring system ranges from one to 100 with scores between 40 and 50 considered average and scores above 60 excellent.  
How to redirect URLs?
URL redirection is a critical component of every SEO migration. There are five types of redirects, but two main types that we focus on for SEO purposes: 301 redirect which communicates to search engines that a page has been moved permanently and a 307 redirect which communicates that a page has been moved temporarily. The method for implementing a URL redirect depends on your website platform – many have a setting in the CMS or plugin that allows a developer to implement a redirect.  
Can I do SEO migration myself or do I need an SEO agency?
Due to the complexity and technical skill required to implement a migration, it's best to use an SEO migration agency or specialist. If you're launching a new website, we can help you understand and navigate the SEO migration process to ensure organic traffic and rankings are not lost during the transition.