Services
Google Local SEO
Local SEO leverages the power of Google my business (Google Maps), and other local listing tools to increase organic visibility within a specific geographic location. This leads to a higher prominence on search engines, more in-store visits and sales.
30% of all mobile searches are related to a location, and searches based on immediacy, such as "stores open now," have more than doubled over the past year (Source: Google). For businesses with a local shopfront, or those wishing to grow foot traffic and sales, the power of local SEO cannot be overlooked.
Our process
How does SEO work?
SEO is a two part process involving website updates (on-page activities) and increasing your online presence across the web (off-page activities). This comprehensive approach boosts the online reach of your brand, ultimately leading to top search engine rankings and increased conversions.
Strategy & Analysis
Website analysis to review content and detect any problems with the website
Strategic keyword search volume analysis (when selecting KWs)
Google analytics setup and installation
Link analysis
On-Page SEO
Meta optimisation
Page Tag, Title & Description Updating
Code optimisation
Image tagging
Addition of .robots text (to tell Google robots to crawl your site)
Sitemap implementation
Adding SEO keywords to copy (if needed)
SEO page content writing
Off-Page SEO
Link building
Content creation
Social media optimisation
Directory submission
Brand promotion
Blogger outreach
Search engine submission
Manual ranking report generation (fortnightly)
Social Bookmarking
Multimedia submissions: video, image, Powerpoint, PDF (if material is provided)
Press release submission (if material is provided)
Testimonials
Local SEO client success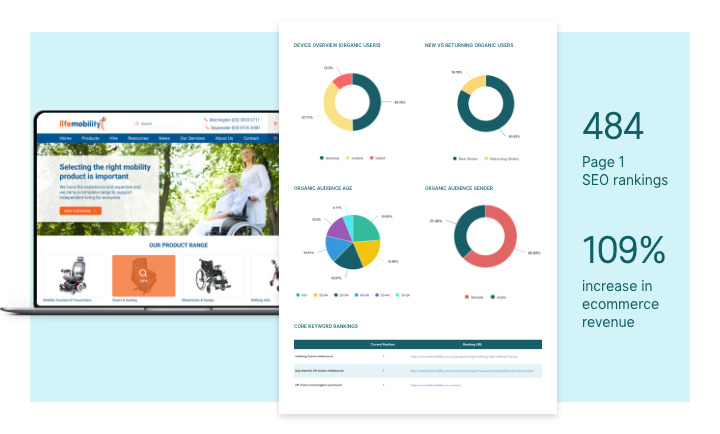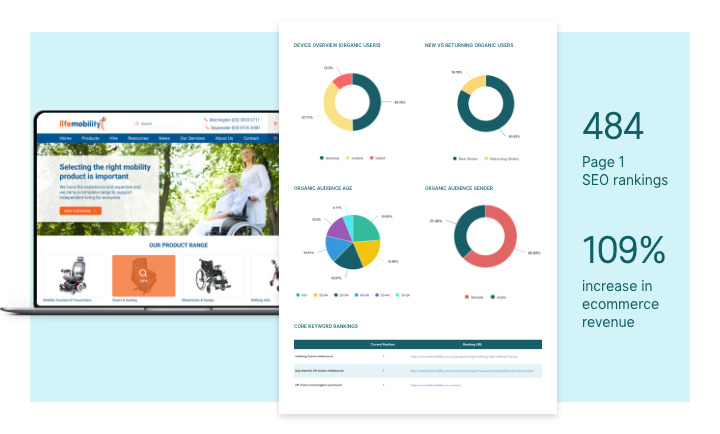 I just logged on to Google Analytics and saw that we had a huge increase in website traffic over April compared to March. I've taken a look at where this traffic has come from and it's namely organic.
- Client from Health Industry
Connect
Request a free SEO audit & consultation
More information
Search Engine Optimisation FAQs
What is Google Maps Marketing?
Google Maps marketing is the process of using a Google My Business listing to reach new customers and provide relevant, quality information such as store location, opening hours, photos, and reviews. Google My Business makes it easier for your customers to find, call, follow directions and visit your business.  
How can I rank on Google Maps?
The first step to ranking on Google Maps is to establish or claim an existing Google My Business profile. The profile must contain as much information about the business as possible and keeping the listing up to date with current opening hours, images, videos and customer reviews is critical to rank on Google Maps. Engaging a local SEO company such as Sentius to carry out a google maps optimisation is recommended to maximise visibility and improve ranking on Google Maps. 
How to add a business to Google Maps?
Go to https://www.google.com/maps/ and enter your business address  
On the left, in the Business Profile section, click the "add your business" link 
You will be prompted to enter your business information such as business name, phone number, opening hours, website and more