Services
Strategy First Enterprise SEO Services
The right enterprise SEO strategy is critical to the success of any high-profile brand or large ecommerce website that relies on search engines to grow reach and deliver consistent streams of traffic.
Enterprise SEO draws on many techniques from traditional SEO, focusing on high-profile large-scale websites. This requires a more detailed strategy, high level of technical expertise and scalable strategies that support the website and SEO campaign to grow together.
Enterprise SEO services are best suited to:
National/International high-profile businesses

Large ecommerce sites

News or content websites with 5,000+ pages

Businesses with multiple locations or websites
The larger and more complex a website is, the more complex and the SEO strategy. Sentius enterprise SEO clients have a dedicated team of content creators, technical SEO specialists, and strategists to deliver high level strategy and dedicated support to meet the demands of corporate SEO campaigns.
Scalable SEO Strategies that Deliver Results
The key to a successful enterprise SEO campaign is the ability to scale and automate traditional SEO tasks. A merger, acquisition or new product launch can lead to a site requiring to scale quickly. The SEO strategy must be equally agile to support such expansions.  
At Sentius, we've spent over two decades developing our own SEO IP and processes aligned to Google's best practice recommendations, along with techniques to scale these processes for enterprise websites.  
We use specialised software to automate certain SEO processes, allowing for tasks such as meta tagging, image scaling, sitemap generation, schema markup, and more to be carried out simultaneously on hundreds or thousands of pages, delivering a seamless workflow.  
We work in partnership with enterprise clients to establish a strategy to guide and support the website and SEO campaign to scale successfully. This strategy is aligned to the organisation's goals and rooted in user experience and best practice business SEO services, with the use of competitive market research to inform key decisions. 
Enterprise SEO Content Strategy
When it comes to SEO, content is king, and enterprise SEO is no exception. Enterprise websites present unique challenges when it comes to content strategy including higher chances for duplicate content, an increased need for high volumes of content, and a broader range of content pillars and topics that must be catered to.  
Content strategy is at the forefront of Sentius enterprise SEO. We use our own content pillar strategy for building content streams, content clusters, and a breakdown of branded and generic content in line with the developed SEO strategy. Content is amplified through distribution tactics that build backlinks, delivers traffic and ranking results even in the most competitive markets.
Enterprise SEO Audits
Enterprise SEO campaigns at Sentius start with strategy first. A traditional SEO audit is undertaken, along with a detailed technical and competitor audit. This allows us to understand the competitive landscape, assess current performance, and identity opportunities.  
Technical Audit for Better Indexing 
The on-site technical focuses on website and server optimisations that help search engine spiders to crawl and index a site more effectively. It is essential to minimise the technical issues on a website early on, so search engines can crawl and index the website correctly. Carrying out a technical audit is critical to maximising the potential of the SEO campaign and gaining better indexing.  
Advanced Competitor Audit and Analysis 
Software is used to identity and analyse keyword and content ideas that are working for competitors. This allows us to understand market tactics and deploy counter strategies to outrank the competition. It can also shed light on how much traffic competitor sites are receiving. 
We take the learnings from the audit to craft a detailed strategy and campaign tailored to achieve the businesses online goals and enhance the user experience and conversion rate.  
Our process
How does SEO work?
SEO is a two part process involving website updates (on-page activities) and increasing your online presence across the web (off-page activities). This comprehensive approach boosts the online reach of your brand, ultimately leading to top search engine rankings and increased conversions.
Strategy & Analysis
Website analysis to review content and detect any problems with the website
Strategic keyword search volume analysis (when selecting KWs)
Google analytics setup and installation
Link analysis
On-Page SEO
Meta optimisation
Page Tag, Title & Description Updating
Code optimisation
Image tagging
Addition of .robots text (to tell Google robots to crawl your site)
Sitemap implementation
Adding SEO keywords to copy (if needed)
SEO page content writing
Off-Page SEO
Link building
Content creation
Social media optimisation
Directory submission
Brand promotion
Blogger outreach
Search engine submission
Manual ranking report generation (fortnightly)
Social Bookmarking
Multimedia submissions: video, image, Powerpoint, PDF (if material is provided)
Press release submission (if material is provided)
Testimonials
Enterprise SEO client success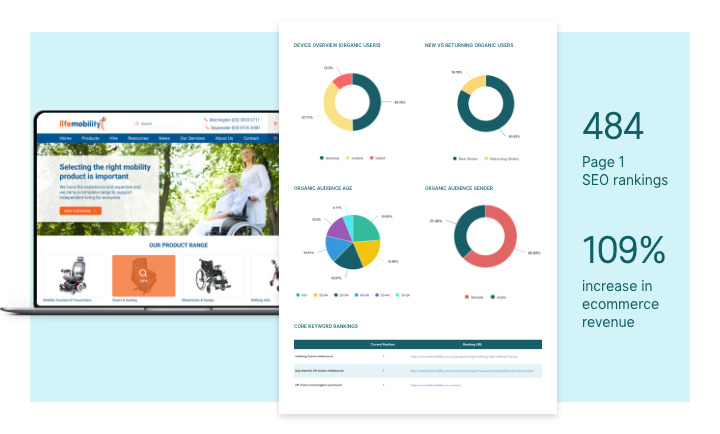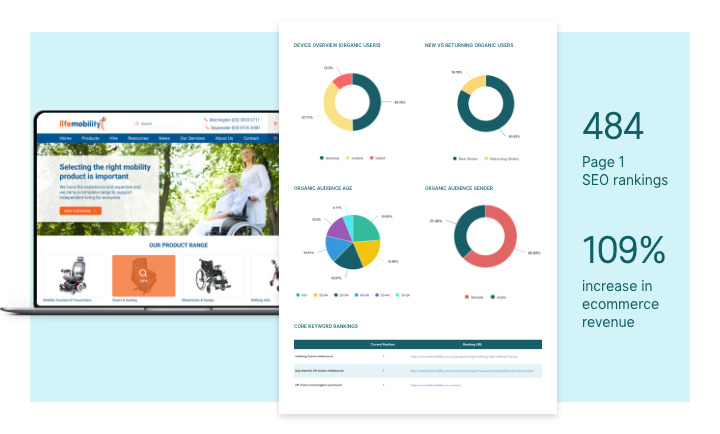 I just logged on to Google Analytics and saw that we had a huge increase in website traffic over April compared to March. I've taken a look at where this traffic has come from and it's namely organic.
- Client from Health Industry
Connect
Request a free SEO audit & consultation
More information
Enterprise SEO FAQs
What is Enterprise SEO?
Enterprise SEO refers to SEO tactics for large content or ecommerce websites or brands with a high profile and/or multiple websites.  
Enterprise SEO services are best suited to:  
National/International high-profile businesses  

Large ecommerce sites 

News or content websites with 5,000+ pages  

Businesses with multiple locations or websites 
What is the difference between enterprise SEO & general SEO
Enterprise SEO refers to SEO on a large-scale basis, generally for websites with over 1,000 pages. Enterprise SEO uses the same principles as general SEO, however, greater strategic and technical expertise is required, and automation strategies are put in place to allow the SEO campaign to scale.