Services
SEO for E-commerce Businesses
Ecommerce SEO is the range of optimisation activities focused on improving webpage visibility through search engine results pages (SERPs). Online product searches and ecommerce transactions are on the rise; being present when potential customers search for products online is now more important than ever for the success of ecommerce websites.
Sentius is a full-service agency specialising in traditional and ecommerce SEO. We've been delivering outstanding SEO results and growth for ecommerce businesses for over 12 years, and we've been at the forefront of Google's ever-changing SEO guidelines.
Achieving page one organic rankings on Google and other search engines has become more difficult with the rise of ecommerce businesses, which is why developing the right ecommerce SEO strategy first is critical to the success of our ecommerce campaigns.
Our process
How does SEO work?
SEO is a two part process involving website updates (on-page activities) and increasing your online presence across the web (off-page activities). This comprehensive approach boosts the online reach of your brand, ultimately leading to top search engine rankings and increased conversions.
Strategy & Analysis
Website analysis to review content and detect any problems with the website
Strategic keyword search volume analysis (when selecting KWs)
Google analytics setup and installation
Link analysis
On-Page SEO
Meta optimisation
Page Tag, Title & Description Updating
Code optimisation
Image tagging
Addition of .robots text (to tell Google robots to crawl your site)
Sitemap implementation
Adding SEO keywords to copy (if needed)
SEO page content writing
Off-Page SEO
Link building
Content creation
Social media optimisation
Directory submission
Brand promotion
Blogger outreach
Search engine submission
Manual ranking report generation (fortnightly)
Social Bookmarking
Multimedia submissions: video, image, Powerpoint, PDF (if material is provided)
Press release submission (if material is provided)
Testimonials
Ecommerce SEO client success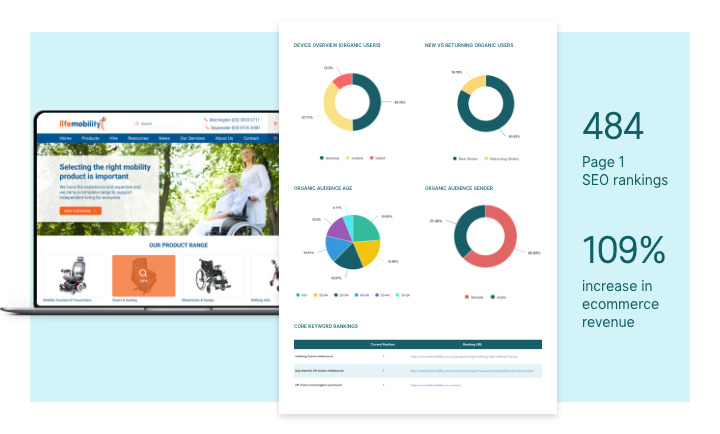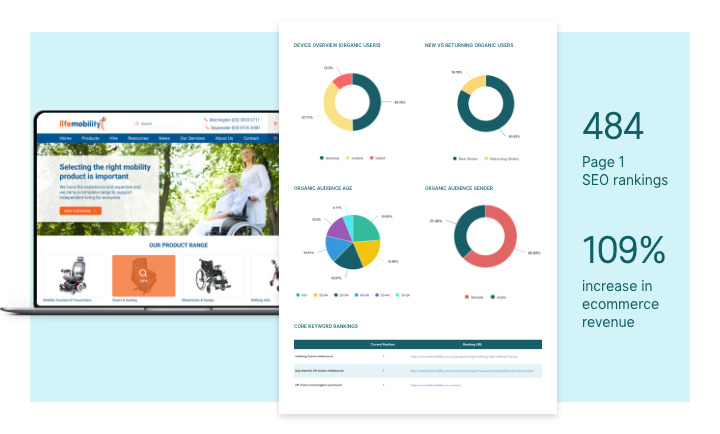 I just logged on to Google Analytics and saw that we had a huge increase in website traffic over April compared to March. I've taken a look at where this traffic has come from and it's namely organic.
- Client from Health Industry
Connect
Request a free SEO audit & consultation
More information
Ecommerce SEO FAQs
What is the difference between normal SEO and ecommerce SEO?
Ecommerce and traditional SEO both use the same range of on page and off page tactics to improve search engine rankings. Ecommerce SEO focuses more closely on the individual product pages of each website to optimise product titles, descriptions, and images, and implement schemas to improve product visibility across search engines. Ecommerce SEO strategy also differs slightly, as the focus is to drive online sales, which requires a strong focus on keyword intent to ensure users are captured at all stages of the customer journey.
How much does ecommerce SEO cost?
Sentius ecommerce SEO packages start at $1,000 per month. SEO pricing varies based on number of keywords, campaign type, and competitiveness.
I'm looking for Ecommerce SEO in Melbourne. Can you help?
Yes. We specialise in ecommerce SEO Melbourne in addition to offering broader agency services. Get in touch for a free SEO audit.