Services
Search Engine Optimisation (SEO)
Increase brand presence on Google with strategic, ethical, best practice SEO
Search Engine Optimisation, or SEO is the range of on site and off site activities undertaken to achieve organic page one ranking on Google and other leading search engines for key search terms related to your products and services. Search engine visibility is key to the success of any business online. SEO increases online brand profile, presence and position resulting in website visits, engagement and conversions.
At Sentius Digital, we offer the full suite of SEO agency services including SEO strategy and research, technical SEO, on-page optimisation, and off-page SEO activities including content creation, circulation, and backlink generation. We also provide SEO consulting services to businesses in Melbourne and Sydney.
Sentius Digital is the best SEO agency dedicated to ethical practices and following Google guidelines. All SEO activities are carried out in-house. Our industry-leading SEO capabilities, proprietary software, processes, and robust in-house team of copywriters, strategists, and technical SEO experts combine to deliver outstanding results for our clients.
Our process
How does SEO work?
SEO is a two part process involving website updates (on-page activities) and increasing your online presence across the web (off-page activities). This comprehensive approach boosts the online reach of your brand, ultimately leading to top search engine rankings and increased conversions.
Strategy & Analysis
Website analysis to review content and detect any problems with the website
Strategic keyword search volume analysis (when selecting KWs)
Google analytics setup and installation
Link analysis
On-Page SEO
Meta optimisation
Page Tag, Title & Description Updating
Code optimisation
Image tagging
Addition of .robots text (to tell Google robots to crawl your site)
Sitemap implementation
Adding SEO keywords to copy (if needed)
SEO page content writing
Off-Page SEO
Link building
Content creation
Social media optimisation
Directory submission
Brand promotion
Blogger outreach
Search engine submission
Manual ranking report generation (fortnightly)
Social Bookmarking
Multimedia submissions: video, image, Powerpoint, PDF (if material is provided)
Press release submission (if material is provided)
Testimonials
SEO client success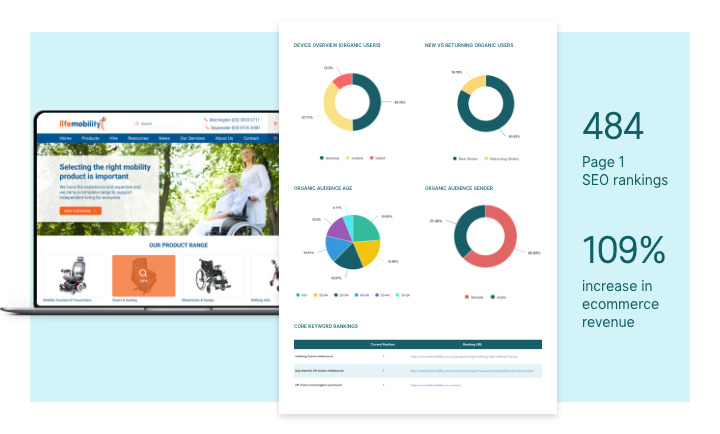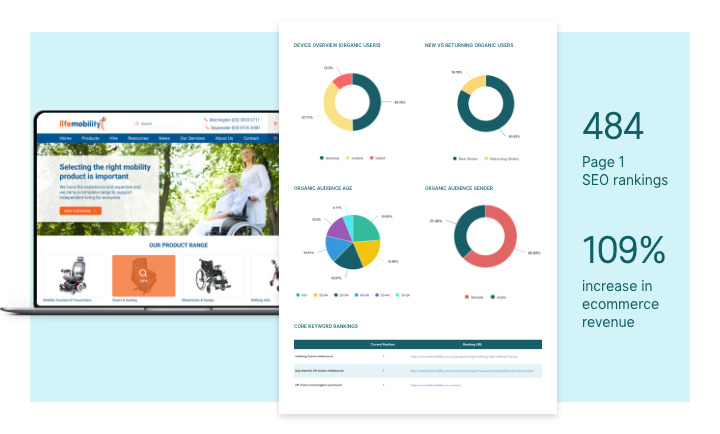 I just logged on to Google Analytics and saw that we had a huge increase in website traffic over April compared to March. I've taken a look at where this traffic has come from and it's namely organic.
- Client from Health Industry
Connect
Request a free SEO audit & consultation
More information
Search Engine Optimisation FAQs
How long does it take to get page one SEO rankings?
It depends on many factors, such as how old your website is, whether the website has been optimised before for SEO and the current on-site and off-site status of the website. While there can be short term gains when optimising a campaign, SEO should always be approached as a long-term, high ROI strategy. On average, many clients start to see page one rankings from 4 months depending on how competitive the keywords are.
How many keywords are included in a typical SEO campaign?
We divide keywords into two sections: core keywords and value-added keywords. Core keywords are the high value, highest volume, relevant, strategic key search terms for your business. This can range from 10-100 keywords. Value-added keywords are the variations and derivatives keywords that spin off from the core search terms and rank as a result of optimisation of core keywords. This can add up to 500+ keywords depending on the core keyword selection.
I've had bad results with SEO agencies in the past. How do I know Sentius Digital will be different?
Sentius Digital is an ethical, best practice, full-service in-house digital marketing agency. Our key difference is our strategy first approach for SEO. We're focused on creating the right strategy for your business rather than quick wins for SEO. We spend time conducting an advanced SEO audit, competitor research, keyword research and recommendations, to create a comprehensive strategy that will serve your business goals. Our strategic approach sets us apart from other agencies, leading to better results for our clients.
How much does SEO cost?
Unlike Google Ads or PPC activities, you will not pay for the traffic you are receiving. With SEO, you pay for the service and activities to optimise your website and increase ranking. SEO needs investment to be able to rank on top of the Google search results, and should be approached with long-term mindset. Different agencies have different pricing methods. It can be per keyword, monthly retainer or hourly based pricing.  At Sentius, we use a flat, fixed rate per core key search term, based on the competitiveness of your industry so you know the cost upfront and exactly what you will get.