Services
Looking for a leading Brisbane SEO agency?
Have you tried SEO before with no results? Looking for an ethical SEO agency partner that delivers real ROI? Need a better SEO agency in Brisbane?
We can help you navigate the world of SEO, stand out from the competition online, and drive enquiries and sales online with the right SEO services.
Sentius Digital is a full-service digital marketing agency with offices in Brisbane, Melbourne and Sydney. As a leading digital marketing agency, we provide complete, in house digital marketing services, including digital marketing strategy development, content & media, website design and web development, and search engine optimisation campaign.
At Sentius, our difference is our strategy first approach to search engine optimisation. We take the time to understand your products and services, target audiences, business objectives and brand differentiation. We work with you to set SEO campaign objectives and key performance milestones before the campaign commences.
Our team of SEO specialists and technical experts undertake an intensive website technical and performance audit, including competitor research, to identify market opportunities and improvements for SEO campaign success.
We take a partnership approach with you to establish campaign objectives and develop the right SEO strategy to grow your brand online. Interested to learn more about how SEO can benefit your Brisbane business? Request a free SEO audit & consultation.
More information
Search Engine Optimisation FAQs
What is search engine optimisation (SEO)?
SEO is the process of optimising a website for Google search with the goal of earning higher web traffic levels and improving the visibility of the site. The SEO process involves a range of on page SEO and off page SEO activities undertaken on a website to improve ranking on search engines such as Google, Bing or Yahoo. A successful SEO marketing campaign will result in improved ranking for targeted search terms on the first page of Google search engine results pages (SERPs). If you're looking for an agency to help with your SEO needs, get in touch for a quote. We specialize in helping businesses improve their ranking on all major search engines.
How much does SEO in Brisbane cost?
Unlike Google Ads or PPC activities, you will not pay for the traffic you are receiving. With SEO, you pay for the service and activities to optimise your website and increase ranking. SEO needs investment to be able to rank on top of the Google search results and should be approached with long-term mindset. Different agencies have different pricing methods. It can be per keyword, monthly retainer or hourly based pricing. At Sentius, we use a flat, fixed rate per core key search term. Our SEO packages start from $1,000 per month.
Is SEO the right strategy for my business?
As the world increasingly shifts online, businesses must adapt their marketing strategies to meet the needs of the digital age. One essential element of a successful digital marketing strategy is SEO, or Search Engine Optimization. SEO is a process by which website content is optimized to rank higher in search engine results pages, making it more likely that users will find and engage with the site. This can lead to increased website traffic and conversions. Compared to other online marketing activities, such as Google ads or social media advertising, SEO can be more cost effective and often leads to ongoing long term increases in website traffic. For businesses looking to improve their digital marketing strategy, SEO is an essential piece of the puzzle.
What's the difference between SEO and Google Ads?
SEO is an organic activity which does not rely on a pay per click method. Google Ads operates on a pay per click model where the advertiser pays for each click on the advertisement. Advertising can be turned on and off at any time, whereas SEO is an ongoing strategy that is often more cost effective in the long run.
Can you rank me on Google Maps?
Yes. Google Maps listings can be optimised for search engines in a similar way to websites. We offer Local SEO services for Brisbane businesses, to help improve the ranking of your business listing on Google Maps.
Do you provide any guarantees?
How and where web pages are ranked is ultimately controlled by the search engine. We cannot guarantee page one rankings or that they will be achieved within a specific amount of time, however, 99% of Sentius clients see an increase in website traffic and organic page rankings after commencing SEO with Sentius. We also work with our clients to set milestone performance objectives for the campaign to achieve.
Real SEO done locally in Brisbane
Looking for the best SEO company Brisbane? Look no further. We're all about building partnerships and achieving growth for our clients through SEO. That's why all Sentius SEO services including strategy, content writing, and technical SEO services are carried out in house at our SEO agencies in Brisbane, Sydney, Melbourne and Jaipur. Unlike other digital marketing agencies, we don't outsource to third party companies overseas.
Sentius SEO campaigns start with a strategy workshop and goal setting session. Our team of strategists and technical experts recommend the best course of action for your website and industry.
Once the campaign is running, we conduct regular performance review meetings to track progress against the established objectives. Sentius clients also have access to a 24/7 virtual data dashboard to see results in real-time.
Our comprehensive and intensive approach is what sets Sentius apart as one of the top Brisbane SEO agencies. On average, clients start to see results within only a few months.
Local SEO for Brisbane Based Business
Local SEO, or Google My Business (GMB) optimisation is a combination of on-site and off-site activities to achieve high visibility in the Google Maps listings. Local SEO is best suited for businesses in Brisbane with a physical storefront location. The objective of these campaigns are to drive awareness online and foot traffic in-store. Google My Business makes it easier for your customers to find, call, follow directions and visit your business.
A Google Local SEO audit and strategy ensures your brand will be in front of potential customers in Brisbane at all stages of the user journey; whether they're looking for information online, or out and about using the Google Maps app on their mobile device.
Sentius has the experience and proven capabilities to create local Brisbane SEO campaigns that drive measurable results and growth.
Ecommerce SEO for Brisbane Businesses
Organic search engine traffic is a core driver for ecommerce websites, with many experiencing higher conversion rates from organic traffic compared to other digital channels. Search engine optimisation is a key strategy for ecommerce businesses to increase brand awareness and be found by users searching online, ready to purchase. The success of ecommerce SEO relies on establishing a sound strategy upfront. At Sentius, we spend extensive time conducting keyword research and competitor research to better understand your market and establish an optimisation strategy that will deliver high growth results.
Sentius has a range of experience and proven track record in running successful SEO campaigns for ecommerce brands across many industries. As a local Brisbane SEO agency, you can rest assured knowing your campaign follows Google's best practices and is carried out by in-house SEO experts; not outsourced.
Our technical SEO team has the expertise working with a range of ecommerce platforms including Shopify, Drupal, WooCommerce, BigCommerce, Magento, Squarespace and others. Looking for the best SEO agency Brisbane? Get in touch for a free audit and quote.
Our process
How does SEO work?
SEO is a two part process involving website updates (on-page activities) and increasing your online presence across the web (off-page activities). This comprehensive approach boosts the online reach of your brand, ultimately leading to top search engine rankings and increased conversions.
Strategy & Analysis
Website analysis to review content and detect any problems with the website
Strategic keyword search volume analysis (when selecting KWs)
Google analytics setup and installation
Link analysis
On-Page SEO
Meta optimisation
Page Tag, Title & Description Updating
Code optimisation
Image tagging
Addition of .robots text (to tell Google robots to crawl your site)
Sitemap implementation
Adding SEO keywords to copy (if needed)
SEO page content writing
Off-Page SEO
Link building
Content creation
Social media optimisation
Directory submission
Brand promotion
Blogger outreach
Search engine submission
Manual ranking report generation (fortnightly)
Social Bookmarking
Multimedia submissions: video, image, Powerpoint, PDF (if material is provided)
Press release submission (if material is provided)
Testimonials
SEO client success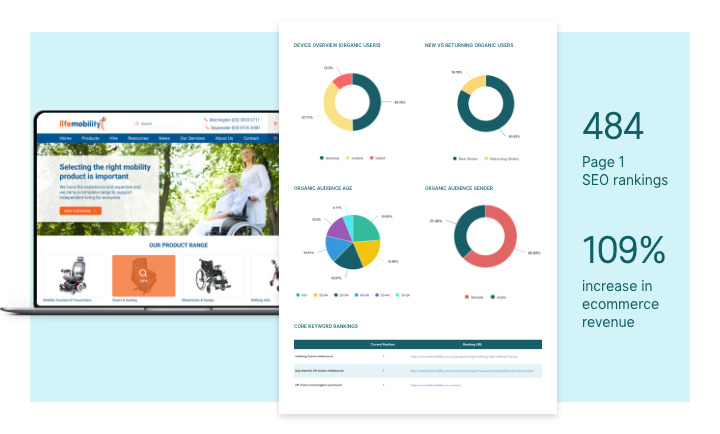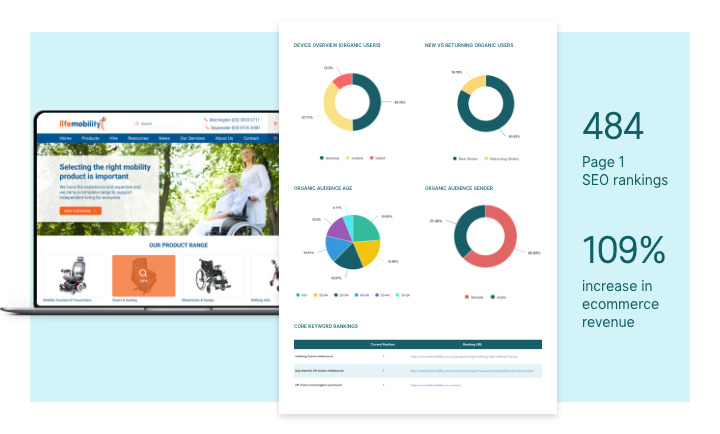 I just logged on to Google Analytics and saw that we had a huge increase in website traffic over April compared to March. I've taken a look at where this traffic has come from and it's namely organic.
- Client from Health Industry
Connect
Request a free SEO audit & consultation