Services
Google Shopping Ads
Shopping ads are prominent visual ads that display product information at the top of Google search results. They're created using data attributes from the product information on your website and are shown to people who are already searching for the kinds of products you advertise; often resulting in high conversion rates. An estimated 87% of shoppers look for information online before visiting a store with a further 35% of shoppers searching for information after visiting a store. Google Shopping ads play a role at all stages of the customer journey and are critical for any ecommerce business wanting to achieve visibility and sales online. Our strategy first approach and experienced team of paid search specialists have achieved over 21 times return on ad spend (ROAS) with shopping ads for ecommerce clients. Learn more about our approach and Google Shopping management services.
Our process
Our strategy-first approach to paid search
PPC Strategy
Initial consultation & campaign strategy planning - consultation over the account and budget
Local search campaign setup (if applicable)
Google AdWords account setup
Keyword research & bid (CPC) strategy
Landing page consultation
Geo-Targeting - focused geographical or location based keywords and ad displays
Dedicated Account Manager and personalised support
Ad Design and Copywriting
Ad account structure setup including campaigns, ad groups and ads
Strategic copywriting of ads aligned to brand identity
Design of display and remarketing ads, aligned with Google Ads best practices
Google Analytics tracking integration
Remarketing tag installation
Client reporting portal login configuration
Campaign Optimisation
Daily campaign & performance monitoring
Search term review & assessment
Budget and bid adjustments
Negative Keywords – monitoring & removing the negative keywords which can lead to increase budget for non-targeted areas
Ongoing campaign monitoring, management and modifications to achieve the defined objectives
Advanced reporting (analysis of reports with strategic recommendations)
Testimonials
Paid search client success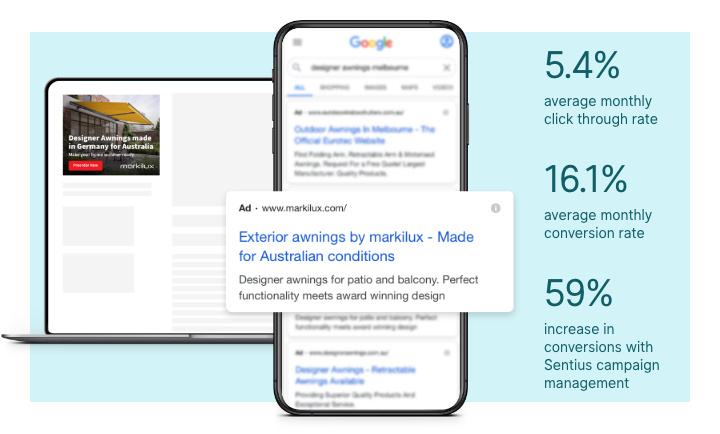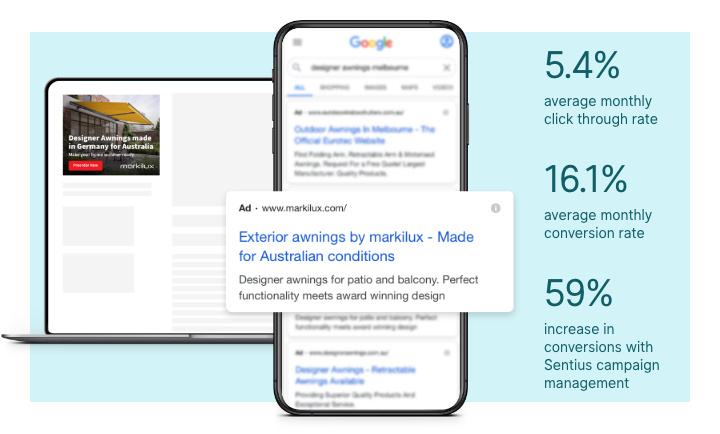 We have just signed a client, who enquired through the website via the paid search campaign. This client will commit to processing 2,000,000 transactions per year with us. Great work, Sentius!
- Client from Finance Industry
Connect
Ready to start growing your business with paid search? Get in touch
More information
Google Shopping Ads FAQs
What is Google Shopping Ads?
Google Shopping Ads are graphical product ads appearing at the top of Google search results. They include rich product information, such as a product image, name, price, brand and business (merchant) name.
What are the benefits of using a Google Shopping company to manage my ads?
The Google Ads platform is very technical (shopping ads specifically) and require a level of expertise and technical knowhow to setup. Items such as structuring the merchant feed in the correct way can greatly influence the performance and costs of a shopping campaign. It's best to leave shopping campaign setup and management to the experts to ensure they deliver the best results.