Services
Google Ads Management 
Google Ads drive instant visibility and website traffic for highly targeted keywords and audiences, which can play a significant role in increasing leads and sales for any organisation.  
Google is the search engine of choice for many Australians, accounting for approximately 94% of search engine market share. Advertising on Google allows brands to reach in-market, high intent individuals searching for their products and services, all at a low cost.  
Google Search ads are text-based ads that appear at the top and bottom of Google Search results. They look similar to organic search rankings and can be distinguished with a small "Ad" text label next to the listing. Google Ads bring a lot of benefit, but the largest is to achieve instant visibility for highly targeted search terms. Rather than relying solely on organic traffic or waiting months for an SEO campaign to build momentum, it's possible to drive instant traffic and sales through Google Ads.
Our process
Our strategy-first approach to paid search
PPC Strategy
Initial consultation & campaign strategy planning - consultation over the account and budget
Local search campaign setup (if applicable)
Google AdWords account setup
Keyword research & bid (CPC) strategy
Landing page consultation
Geo-Targeting - focused geographical or location based keywords and ad displays
Dedicated Account Manager and personalised support
Ad Design and Copywriting
Ad account structure setup including campaigns, ad groups and ads
Strategic copywriting of ads aligned to brand identity
Design of display and remarketing ads, aligned with Google Ads best practices
Google Analytics tracking integration
Remarketing tag installation
Client reporting portal login configuration
Campaign Optimisation
Daily campaign & performance monitoring
Search term review & assessment
Budget and bid adjustments
Negative Keywords – monitoring & removing the negative keywords which can lead to increase budget for non-targeted areas
Ongoing campaign monitoring, management and modifications to achieve the defined objectives
Advanced reporting (analysis of reports with strategic recommendations)
Testimonials
Paid search client success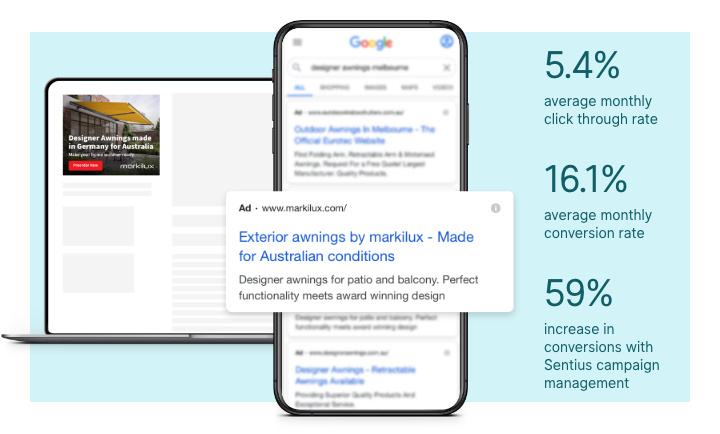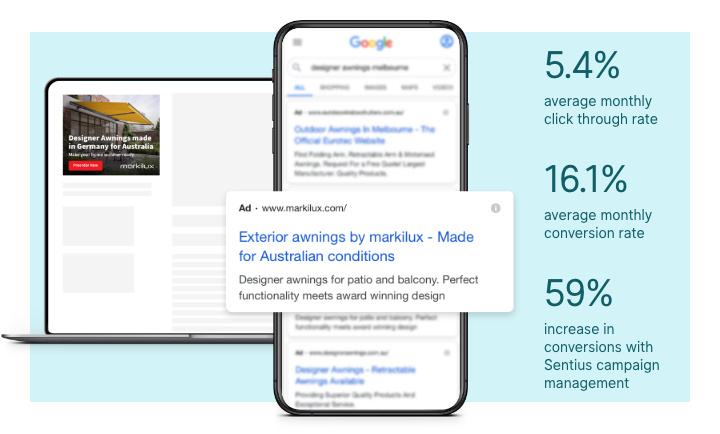 We have just signed a client, who enquired through the website via the paid search campaign. This client will commit to processing 2,000,000 transactions per year with us. Great work, Sentius!
- Client from Finance Industry
Connect
Ready to start growing your business with paid search? Get in touch
More information
Google Ads Management FAQs
What are the benefits of hiring a Google Ads management company over running my own Google Ads?
Google has made their advertising platform more accessible, making it possible for anyone to setup a Google Ads campaign. It's easy to run a campaign, but achieving real results and maximising budget comes down to expertise and understanding the technicalities of the platform.  As a leading Google Ads company in Melbourne, we have decades of experience running Google Ads campaigns and have watched the advertising platform evolve over the years. We have a deep understanding of how the ads algorithm works, in addition to client and industry experience and expertise which results in better results; more leads and sales for our clients. Whilst the cost of hiring a Google AdWords agency is higher, our goal is to always deliver a positive return on investment for our clients. 
How much do Google Ads cost?
The cost of advertising on Google varies widely by industry, campaign type and keyword competitiveness. Google Search Ads
What kind of results can I expect from Sentius?
We are obsessed with results and provide full transparency around campaign performance.
We work with you at the start of each campaign to set objectives which we measure on and report against as the campaign progresses. Our goal is to always deliver a positive return on investment for our clients.