Services
Paid Search Advertising
Create an instant online presence that generates awareness, leads and sales. We specialise in the full range of paid search advertising campaigns including Google search, shopping, display, remarketing and Microsoft ads.
Our strategy first approach focuses on the entire customer journey, rather than just one digital touchpoint. We identify ways to reach and convert new and returning users across multiple touchpoints utilising a variety of advertising formats such as video, image, animations and text. We identify digital platforms your target customers use, research how they search for information, define critical conversion points, and create content that converts. 
Our paid search advertising campaigns are comprehensive; made to capture your ideal audience when they're most likely to convert.  We think beyond just campaign creative, spending time upfront to research and workshop the right strategies that will drive growth. 
Our strategy first approach for PPC marketing results in powerful, integrated campaigns that drive real results for our clients.  
Our process
Our strategy-first approach to paid search
PPC Strategy
Initial consultation & campaign strategy planning - consultation over the account and budget
Local search campaign setup (if applicable)
Google AdWords account setup
Keyword research & bid (CPC) strategy
Landing page consultation
Geo-Targeting - focused geographical or location based keywords and ad displays
Dedicated Account Manager and personalised support
Ad Design and Copywriting
Ad account structure setup including campaigns, ad groups and ads
Strategic copywriting of ads aligned to brand identity
Design of display and remarketing ads, aligned with Google Ads best practices
Google Analytics tracking integration
Remarketing tag installation
Client reporting portal login configuration
Campaign Optimisation
Daily campaign & performance monitoring
Search term review & assessment
Budget and bid adjustments
Negative Keywords – monitoring & removing the negative keywords which can lead to increase budget for non-targeted areas
Ongoing campaign monitoring, management and modifications to achieve the defined objectives
Advanced reporting (analysis of reports with strategic recommendations)
Testimonials
Paid search client success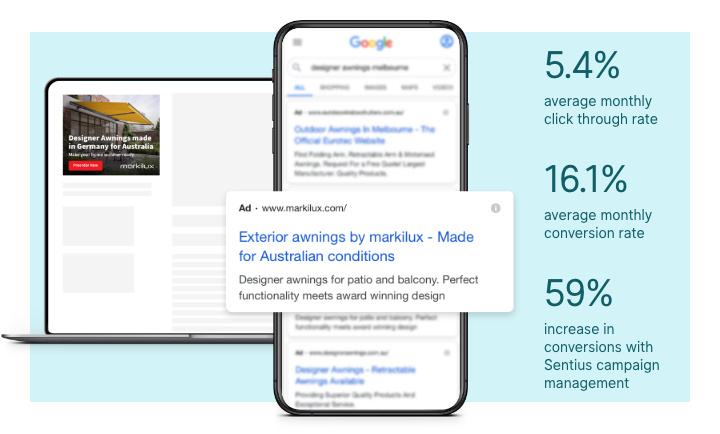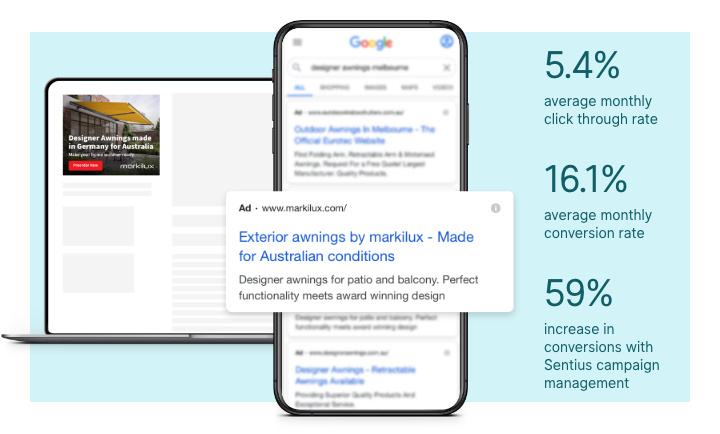 We have just signed a client, who enquired through the website via the paid search campaign. This client will commit to processing 2,000,000 transactions per year with us. Great work, Sentius Digital!
- Client from Finance Industry
Connect
Ready to start growing your business with paid search? Get in touch
More information
Paid search advertising & PPC FAQs
How much do PPC ads cost?
The pay per click model operates on an auction system, and the price paid for each click varies depending on a range of factors including time of day, competitiveness (how many other advertisers are bidding on the same keyword), quality score, and ad content. The cost per click can range from a few cents (for a non-competitive brand name) to tens of dollars for highly competitive keywords. We recommend clients start with a minimum budget of $30 per day for pay per click ads. We can recommend a specific budget based on your industry and how competitive it is.
I've wasted money paying for clicks that don't deliver leads. What am I doing wrong?
The Google and Microsoft Advertising platforms are complex and challenging to navigate for someone without specific expertise in these platforms. Many businesses try to run PPC ads in-house to save money on management fees, but without the right level of knowledge and expertise, this can be a waste of money. At Sentius Digital, our Campaign Managers have extensive experience in these platforms with proven success delivering results. We work with you to establish campaign objectives upfront, working to meet these objectives and KPIs each month.
How do I make my ads convert?
If website conversions are your primary goal for PPC, we can create a campaign strategy to maximise conversions. We tailor ad copy, bidding strategy, keywords, and landing pages to increase the chances of achieving a conversion. We can implement broader strategies using remarketing to re-engage with users and send them back to your website in the hopes of converting.
How do I know if a lead comes from an Ad or a different channel?
Establishing a measurement and tracking strategy is imperative to the success of every PPC campaign. As part of our campaign setup process we integrate Google or Microsoft Ads with Google Analytics to ensure campaign performance data including leads is getting tracked. We can then report on the specific number of leads that come from PPC compared to other channels.
My competitors' ads appear above mine, do I need to spend more to beat them?
PPC advertising algorithms use a variety of factors to determine where an ad shows up. They take into consideration the advertiser, landing page, targeted keyword and bid, along with factors related the individual conducting the search: their previous browsing history and interests. This results in a unique set of search results for every search.
Whilst spending more money can help your ad show up more, it won't necessarily help you outrank competitors. We monitor ad position, and make adjustments to optimise your campaign and improve the ad rank position over time.