Services
Conversion Rate Optimisation
Conversion rate optimisation (CRO) is a system of using analytics, user observation via heatmapping, heuristics and analysis to improve the overall experience and performance of a website.
The aim of CRO is to increase the percentage of visitors who take a desired action on the site - sales, form completions, downloads, e-mail sign ups etc. The process of optimising a website for conversions relies on analytical knowledge, strategic expertise and market knowledge to uncover the right insights and approach.
We look beyond the analytics reports and numbers, bringing our strategy knowledge and UX expertise into CRO activities, resulting in measurable results and enhanced user experience website-wide.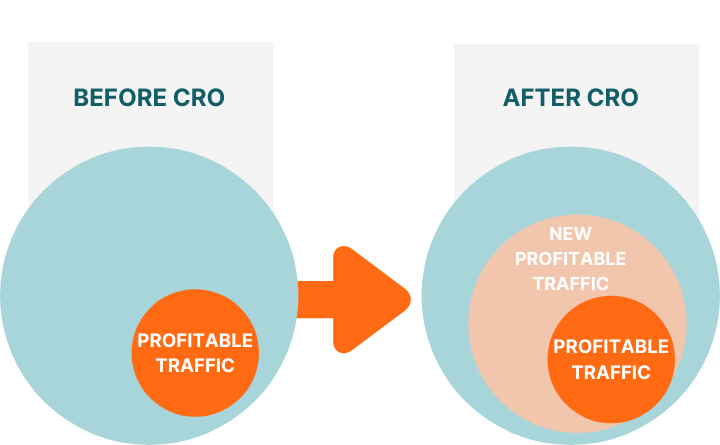 CRO Analysis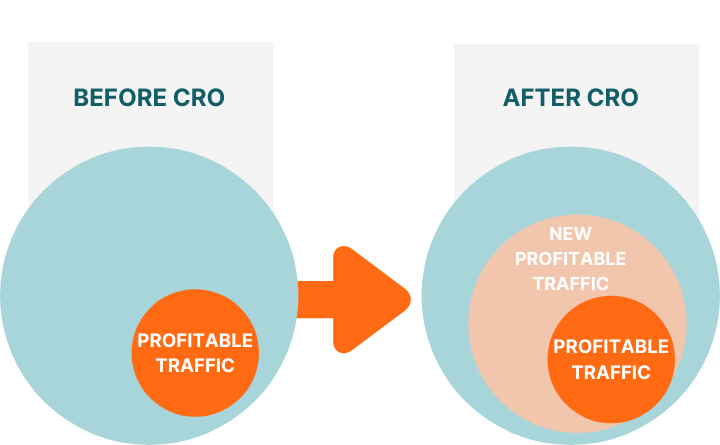 In order to optimise a website, it's critical to first understand baseline performance, and how users are interacting with the site. We use a combination of standard analytics tools (such as Google Analytics) and in house software to track user flow, scroll depths, create heat maps and carry out A/B testing.
We work with you to understand your concerns and devise the best approach to tracking and analysis for your website. We also look at external factors such as the market, your industry and competitors to gain further strategy insights which help understand user behaviour and the components that your users respond positively to. Based on the situation, we can even carry out user research and interviews to further understand user motivations and intent.
It is important to realise that what works for one website, may be different for another website; so we take this into consideration and treat your website and audience on their merits, while applying strategic learnings from other successful conversion rate improvements.
Conversion rate optimisation is an ongoing process that requires continual monitoring and analysis paired with strategic insight and UX expertise to effectively evaluate, strategise and optimise your website for results.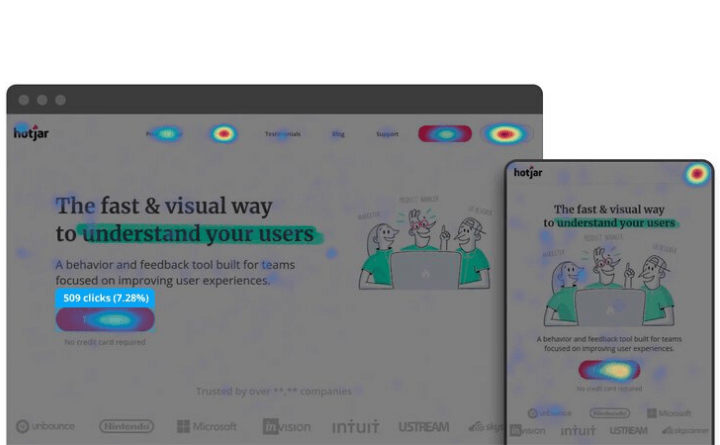 CRO Tools & Tactics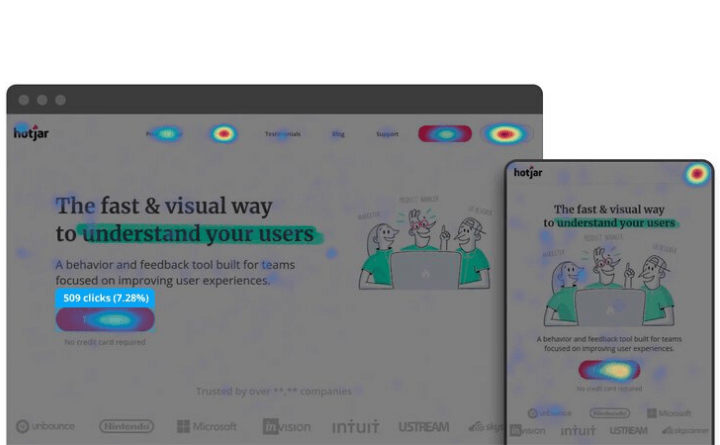 Effective conversion rate optimisation relies on the strategic selection and use of software and tools to uncover critical user insights. Some of the key tools and tactics we use during a CRO evaluation include: 
Web Analytics Tracking

Analysis of key user experience/behaviour data: e.g. traffic behaviour, bounce rate, average time on page, exit pages
Pages viewed per session, number and type of conversions (i.e. desired actions) 
Navigation journey - identify the most common user navigation path(s)

Session Replay

Create screen recordings to see exactly what visitors do on your site

Heatmaps & click maps

Uncover where users are clicking on the website 
Spot trends in online behaviour

Movement tracking 

Analyse the eye movement progression of your visitors

Scroll depth tracking

Analyse the eye movement progression of your visitors (how far visitors progress down the page)

Attention tracking

Know your customers maximum and minimum attention rates

Funnels

Discover where visitors are dropping off or leaking out of the conversion funnel

Forms

Identify what form fields assist or hurt conversion rates for forms 

A/B split testing

Create two different versions of a page to test different messaging, colours, call to action buttons, designs, etc.
Our process
Our strategy-first approach to conversion rate optimisation
Analyse
Conversion rate optimisation begins with a deep level analysis into website activity and user behaviour, to understand the current situation and create benchmarking metrics.
Google Analytics analysis
Recommendation of software tools to use, based on website performance and client objectives
Implementation and configuration of additional tracking software
Data collection and analysis
 
Strategise
We combine the data with our strategy and UX expertise to create strategy insights and recommendations to improve website conversions. We may also carry out additional user, market and competitor research to support our recommendations.
Data analysis and compilation of strategic insights and recommendations
User research & interviews
Market research
Competitor research
Optimise
Changes made to the website based on strategic recommendations. After optimisation, more data is collected and the process begins again.
Implementation of strategy recommendations
Design amendments 
Development to carry out website changes
Ongoing monitoring, tracking & reporting
Testimonials
CRO client success
Well, the feedback is resounding. Without being prompted, the team has expressed to me that "they were inspired after leaving the Sentius Digital office last week" and that "they cannot wait to get started" on digital marketing campaigns!
- Retail and eCommerce Client
Connect
Ready to start growing your business with CRO? Get in touch
More information
Conversion Rate Optimisation FAQs
How are your tracking tools different to Google Analytics?
Analytics solutions, such as Google Analytics, give you statistics about your website activity. It is aggregated data that is meant to identify trends and issues with your website. Think of this as quantitative data.  Site tracking software that we use gives you additional insight into what individual contacts are doing on your site, or qualitative data, so we can draw more informed, deeper insights for CRO.
Can you do conversion rate optimisation for ecommerce websites?
Yes, we CRO for all types of websites including ecommerce and CMS.
I don't sell anything online. How can CRO benefit me?
Conversions are considered as any action you want users to do on our website.  If you're not selling products online, a conversion is often considered as a form or enquiry submission, e-newsletter sign up, or request for more information. By optimising your website for these activities, we can increase the number of leads you receive, which often results in more sales for your brand or business.
What is a conversion rate?
Conversion rate is the number of conversions divided by the total number of website visitors. For example, a site with 5000 visitors and 50 conversions has a conversion rate of 1%. On average, conversion rates range between 1%-3%. A conversion rate of 3% or higher is very good.
What is a good conversion rate?
A good conversion rate depends. It depends on your industry, what product or service you sell and what your objectives are that lead people to your website in the first instance. There are broad industry benchmarks that we can reference for you, to gauge an understanding of aspirational goals for conversion rate. For example, if you are an e-Commerce business, achieving a website conversion rate of 2.5% is standard. Whereas if you are in the professional services sector, the average benchmark for conversions (goal completions) is closer to 10%.
Overall, our objective is to continually improve and evolve the components of your website that convert, regardless of your starting point of conversion rate.