19.02.2021
Facebook News Ban - where to get your news now!
This week, Australians woke up to find they were blocked from viewing any news related content on Facebook, as part of the company's response to the Australian Government's proposed News Media Bargaining Code.
But it wasn't just news outlets who were affected - many Government, health and even retail businesses including the Bureau of Meteorology, Fire and Rescue NSW, Booktopia and Harvey Norman, were also caught in the crossfire with their Facebook pages suddenly wiped clean and no longer able to post any new content!
Many non-news Facebook pages were caught in the crossfire when Facebook blocked news service providers from sharing their content on the social media platform.
While many of these pages have since been restored, the error highlighted the fact that Facebook's algorithms couldn't really work out what was news and what wasn't…
What is the Code:
The News Media Bargaining Code is intended to address the power imbalance that exists between Australian news media businesses and digital platforms, specifically Google and Facebook - who currently dominate the digital advertising space.
And while creating a more democratic, even playing field may sounds like a good idea, you can bet that Facebook and Google were not happy about it.
This proposed Code would allow media businesses to bargain individually or collectively with Google and Facebook over payment for the inclusion of news on their services.  However the media businesses that would qualify have to meet minimum annual revenue figures; which could preclude some independent journalists from being part of the conversation.
It also asks that advance notice of changes to the algorithm or presentation of content, and make information available about how and when Google and Facebook make available user data collected through users' interactions with news content.
Further, it could be argued that Google and Facebook provide free gateways for users to engage with and discover online news outlets and journalists – so charging these digital platforms for views is akin to biting the hand that feeds you.
Google's response:
Unlike Facebook, Google has entered into negotiations with media outlets and has reportedly struck $30m pa deals with both Nine Entertainment Co (The Sydney Morning Herald, The Age) and Seven West Media in order to be able to share their content.
Why have they responded so differently? According to a statement issued by Facebook, their relationship with news is vastly different to Google. They claim that publishers don't voluntarily provide their content to Google, the way they do with Facebook – a platform where they choose to post their content and that allows them to grow their audience and sell advertising.
While this sounds like a fair point, we also have to remember that many of the news providers and brands who are now blocked, have probably invested many years and lots of advertising dollars with Facebook in order to grow their audiences. It's not such a one-way relationship as Facebook makes out it out to be!  However this investment can create tendencies to be over-reliant on one, sole, communications channel.
The lessons we have learned
It's not all bad news of course! One of the biggest realisations for many individuals and brands is the dominance that tech companies like Facebook and Google have in our society.
It also highlights the danger of being too reliant on one single communications channel. By removing news from its platform, Facebook has actually reminded us that we have so much more control and plenty of options about how and from whom we receive our content.
And that's really the whole point of the proposed Code – to ensure that there's not one voice or opinion dominating our public discourse.
For brands and marketers who also rely on Facebook to distribute content, the message is the same. As our Senior Client Strategy Manager, David Bedggood quickly pointed out in the comments of our LinkedIn post - this is, "a perfect example of why we are a Strategy First, Consulting Agency – we apply strategy to devise the right marketing mix and communication strategy across channels."
What we do know with certainty, is that there is never a one size fits all approach to marketing and growing a business. Strategic thinking and planning is the key to success!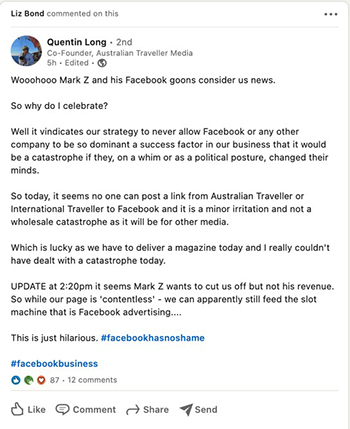 Many brands and organisations such as the Warrandyte CFA and the Editor of Australian Traveller magazine have spoken out about danger of relying on Facebook or just one channel to share content.
How to get your news and other content?
Do you primarily use Facebook to get the latest news? Don't fret, while you might have to go to a little more effort initially, there are plenty of other easy ways to get your daily dose of current affairs and gossip - including:
Sign up to receive news alerts via Messenger (which doesn't appear to have been affected, despite being linked to Facebook - see the ABC News example below)
Use Google search – you're pretty much guaranteed to find whatever you're looking for!
Use other social media platforms like Twitter, Instagram, LinkedIn, YouTube, Tik Tok and Reddit which have all remained unaffected so far
Sign up to receive your favourite brands and news providers' e-newsletter – usually free and delivered to your inbox
Check if they have an App and download it to your smart phone or tablet for quick and easy access, turn on notifications if you don't want to a miss a thing!
Visit your favourite news provider's website and save them in your favourite/ bookmarks
If your chosen news provider has a paywall in place, consider subscribing to gain access to all their content
Go to the newsagent or subscribe to get your favourite newspaper and magazines delivered to your door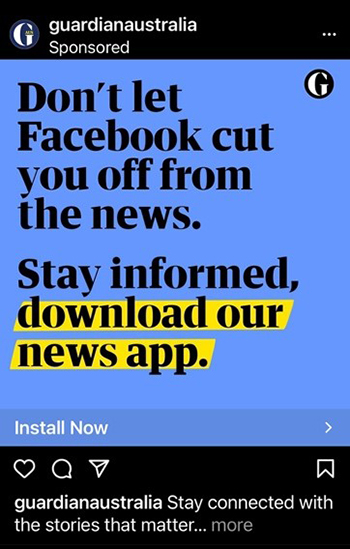 As the saying goes, 'there is more than one way to skin a cat…' and Facebook is not the only way to get news and content from your favourite brands.
In conclusion…
We're not boycotting Facebook or saying not to use the platform. It's still a great place to connect with family, friends and many of the brands and groups you love. All we're suggesting is that you look at other ways to share content and engage with like-minded people. Whether you're an individual or a business - find the platform/s or method/s of communication that work best for you, that specifically meet your needs and goals!
In the meantime, we'll all be watching closely to see what happens next as the Facebook news saga continues to unfold…
Need help navigating the Facebook restrictions and algorithms? Want to explore other ways for your brand can communicate with current and potential customers? Give our Digital Marketing team a call on 1300 818 188 to set up a free consultation.
Written by
Mia Ferreira
Senior Consultant - PR & Content Marketing
Mia is a PR and Content Marketing guru with a passion for helping people and clients see and reach their potential. She loves the variety of clients at Sentius and the opportunity to be creative and strategic with social media and content campaigns.
Written by
Mia Ferreira
Senior Consultant - PR & Content Marketing
Mia is a PR and Content Marketing guru with a passion for helping people and clients see and reach their potential. She loves the variety of clients at Sentius and the opportunity to be creative and strategic with social media and content campaigns.